Hannover has always been on my mind of German cities to visit since the 2000 Expo. I worked at a small hostel back then for backpackers, living the dream, and the owner was always telling people to go to Hannover and check out the Expo.
I guess I was to busy studying the Berlin nightlife because I never managed to make it to the Expo, but I had never forgotten about Hannover. I had been through on the train a few times, and most people told me unless you have a reason to go, there is no point in going.

Well it took 19 years but finally there was a reason. Recently I have been training for an epic journey to run over 250 kilometers through Belarus, the birth place of my great grandparents. To train for this adventure I need to run A LOT! I have run all around Berlin in every direction that just to get somewhere new I have to take the train for at least an hour away from Berlin.

I needed one more weekend of training back to back to back runs. Meaning I needed to run 3 times over 3 days. I was bored of Berlin and was looking for somewhere not so far away, and this meant that reason to go to Hannover had finally arrived.

Running Hannover

So I booked a train with Sandra from Tracks and the City, and I started to do my homework on the best running spots in Hannover. I posted in the facebook group  Laufen in Hannover asking for tips on where to run in Hannover and stated that I needed to run a lot. 

A person in the group had sent me a map with a route of 24 kilometers around the city. The map looked like a perfect way to be able to see and get a feel for the city.  I was staying at the Congress Hotel am StadtPark which was a good starting point for my run. Just a few hundred meters out the door I found myself in completely green area sectioned off for both bike and for runners and walkers. 

I ran this forest for a while and eventually weaved my way through the city, but mostly on a well marked path for bikes. I ran north for a while and then ended up heading south and having a beautiful run on the edge of the Georgengarten and running directly alongside the Herrenhäuser Gärten.

After this I headed along the Leine canals for a while following the signs for the Maschsee. Finally hitting this lake and I knew I was getting closer to ending up where I had started. Eventually I found my way home and was very impressed by the diversity of the places I had seen on my 24 kilometer run. I had been through forest, urban areas, ran alongside water and seen lots of green, and a huge lake.

I went back to the hotel and took advantage of the swimming pool and sauna before heading back out into the town in the search for food.

On the search for vegetarian food in Hannover

I am always interested in vegetarian food and wanted to see what  Hannover had to offer so I popped on the U bahn which doubles as the tram and headed over to Burgernah. Serving up all kinds of plant based burgers. It is a small intimate cafe, playing good music with an interesting selection of vegan burgers and nice potato wedges – and the price was very fair.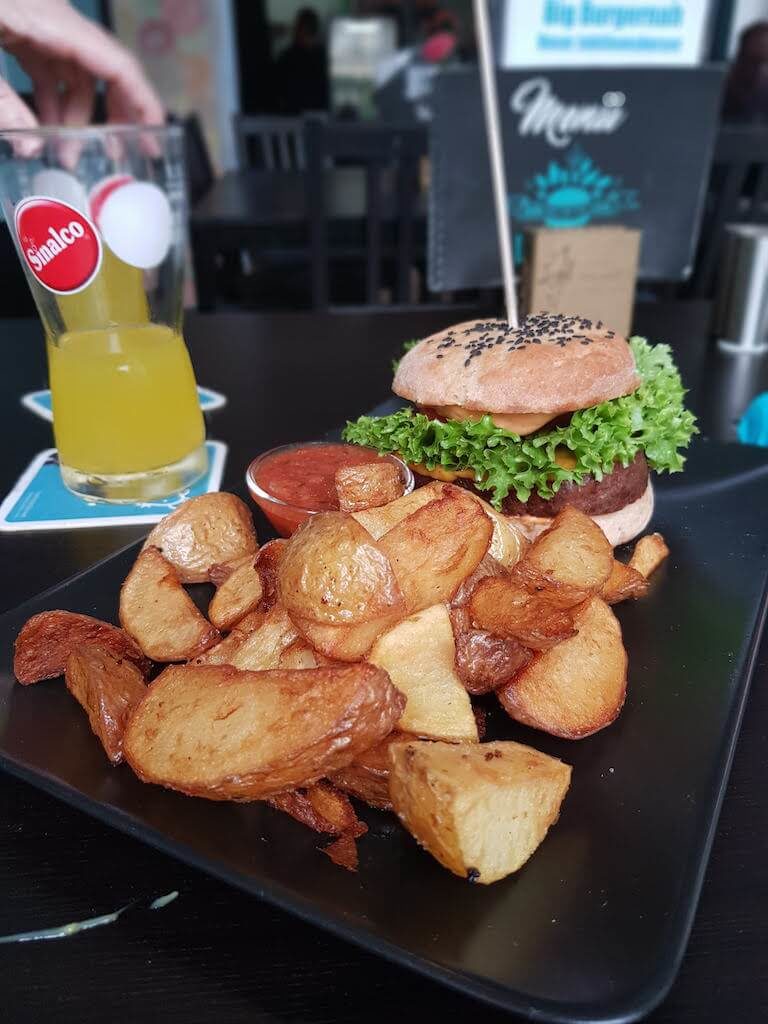 But there was little time, I needed to get back to the hotel, for some rest. Saturday was my long run day.

Long distance running in Hannover

After a decent night's sleep I was up early, and put together a small breakfast that we had bought the night before. Around the hotel there is not much in the way of shops, so if you need any snacks, bottles of water, then you should get this on the way back to the hotel.

My plan was to find the red arrow a fellow runner had told me about. If I follow it I will be taken around the city for 21 kilometers. I had seen it on my previous run, and my mission was to run this at least once and maybe even a bit more.

Starting at the Döhrener Turm there are wooden markers showing the way, and even telling you how far you have run. I have gotten a lot better with navigation over the years, and have a pretty good feeling for following markers, but somehow I managed to make a wrong turn, multiple times and lose the markers leading me on the right direction.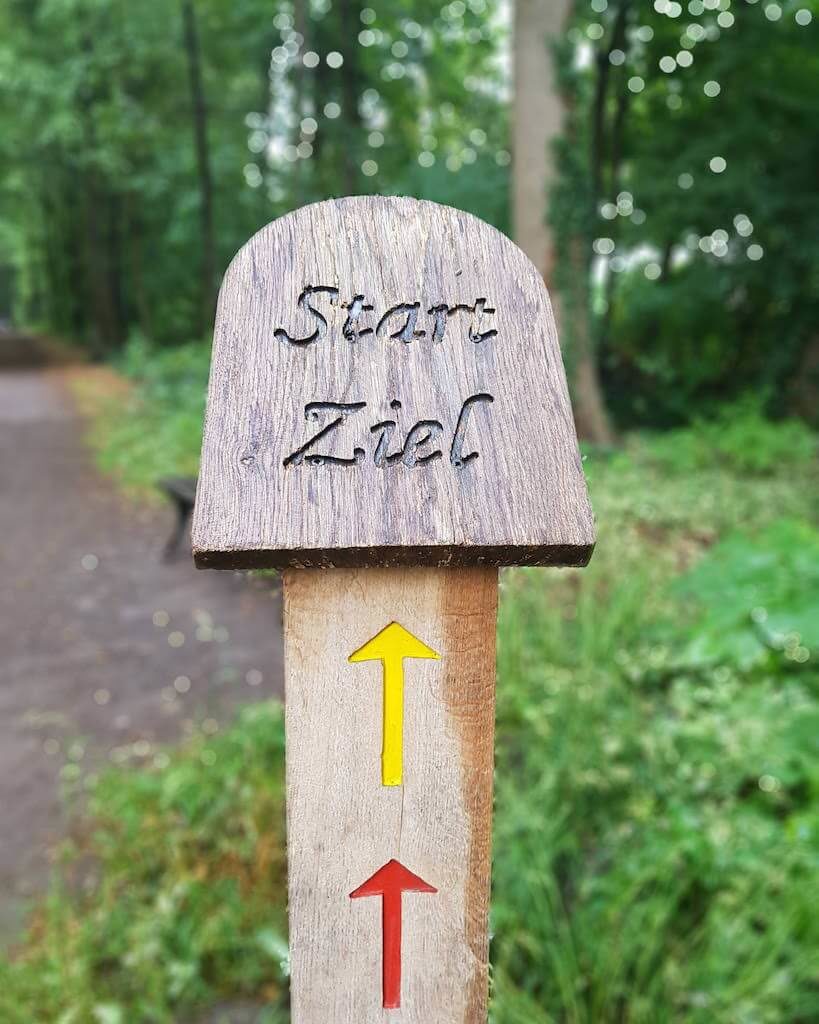 Park Run Hannover

But I wasn't going to let that stress me out, and decided I had enough time to get the Park Run Georgengarten. I certainly was not disappointed! I had been to the edge of this park the day before, but I was a little early and to keep warm I enjoyed some quiet tree lined avenues. 

As usual we were greeted by claps as this was our first time at park run Hannover, and off we went on a 5 kilometer run. I was struggling a little bit as I was in kilometer 20 and yesterday was still clearly in my legs. Mentally I also knew I still had another 20 kilometers to go.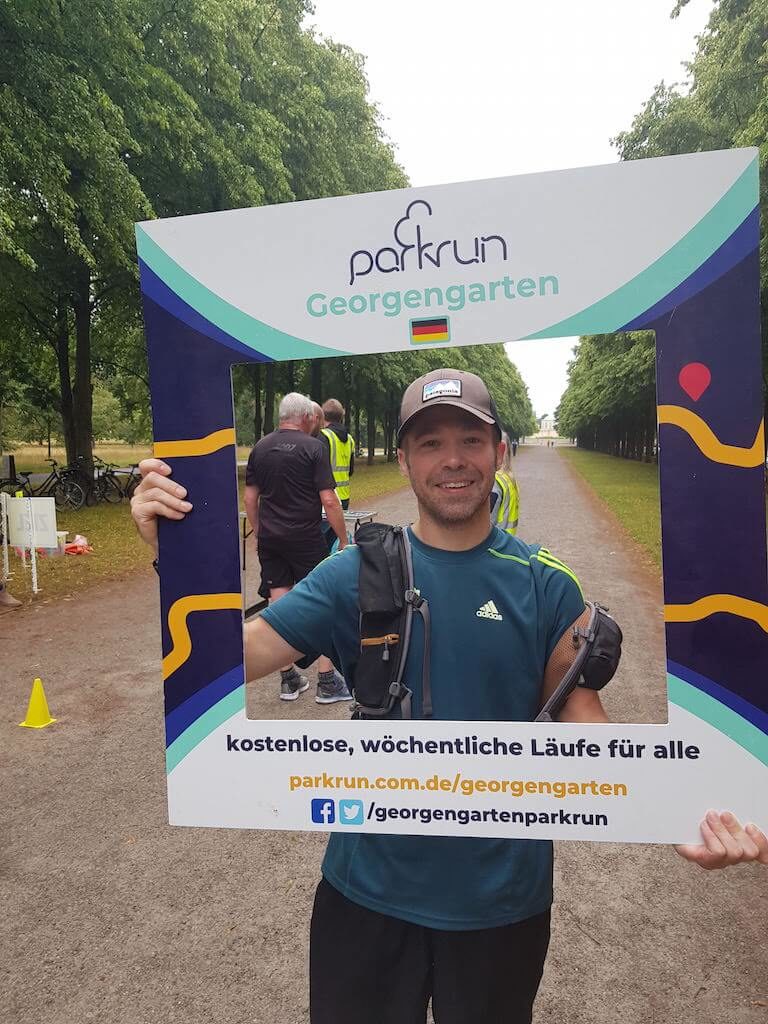 After the park run I set back off and basically did the second half the run I had done the day before.

Back to the hotel, more time in the pool and sauna and the search for food was on again! I met Sandra for a coffee and we headed over to the café-restaurant Lieb.es at Engelbosteler Damm, because we had read they also had some vegetarian food. I went for the green curry and it was exactly what I needed. Although the Burger the night before was good, I still lacked vegetables, and this was full of veggies and absolutely gorgeous. 

Running in the Tiergarten

Another day down, and my body was feeling the now 60 kilometers that I had put into it. I had also literally run around Hannover. What was left to see? On sunday morning over my coffee I got on my strava map builder and drew my last 21 kilometer route through Hannover. This time taking me once again through the Stadtpark, before making a right and weaving myself through the city and eventually hitting a canal. I ran along the canal, and was just enough away from the city that it was nice and quiet. It was a perfect dirt bike path for running and I enjoyed my time along the water. Eventually it was time to start and make my way back home. But this time I had one ore new area to check out and that was through the Tiergarten. As I approached this area I was not sure I would be allowed to pass through the double gated fence. But once I was in, I was in a beautiful green area, and it was early enough on a sunday that I had it almost all to myself.

Best runner's breakfast in Hannover

But it was time to get back, pack up and get one last bite to eat before heading back to Berlin. Sandra has a breakfast surprise for me. I thought we were just going somewhere open that had WIFI so she could do some work. But no, we headed into the middle of the shopping area, where absolutely everything was closed, to find one little cafe with a small line outside. Seven Sundays was packed. It is a pretty small cafe so it was no wonder, and after waiting 20 minutes we were shown to your table and the menu was amazing. 

It had a lot of American breakfast classics but also lots of creative inventions on the menu and just thinking of all the options makes me hungry. I just had to have the breakfast burrito, which was perfectly toasted, cheese melted just right. It was a little bland but the texture and quality of the ingredients did not disappoint.

Because I had not had a breakfast burrito in so long, I decided not to get the pancakes and a slight miscommunication with Sandra when ordering, we sadly did not get the pancakes.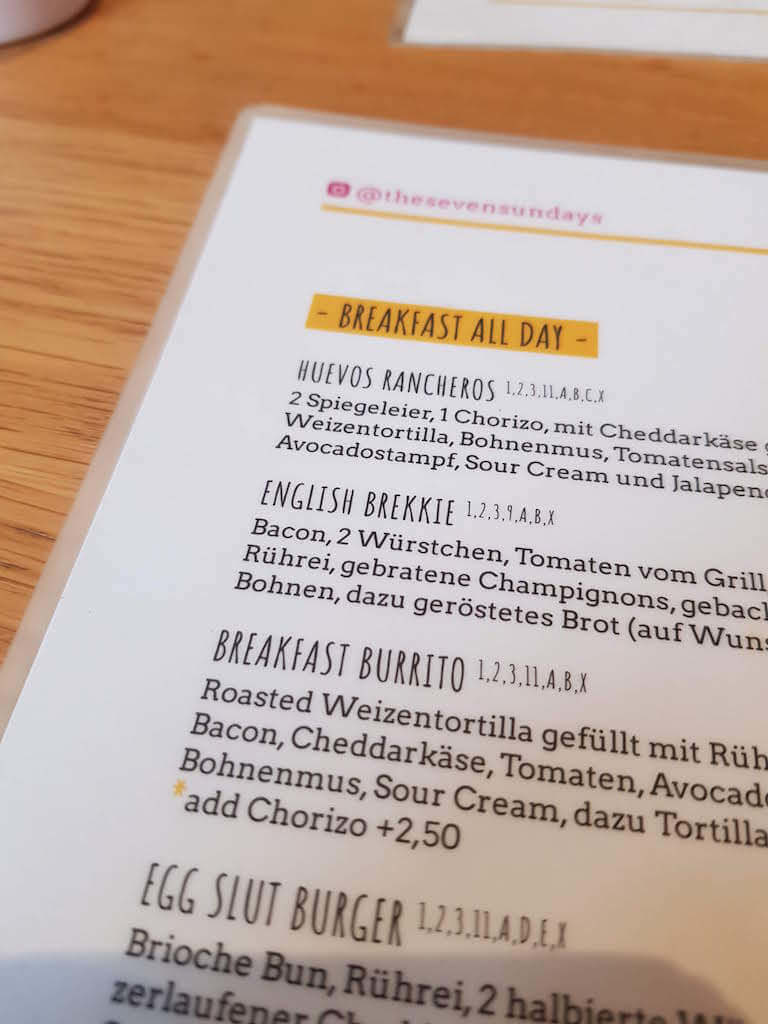 Hannover: I'll be back!

All in all I had a good time running in Hannover. I would probably not stay in the same place, but somewhere just a bit closer to the action. If you need to do some running there, there are some great places to do that, that are scenic and quiet. There is plenty of green and lots of water so there is no shortage of nice views for those long runs.

I feel that I did not totally end my Hannover weekend on the right note by not ordering those pancakes from Seven Sundays so there is still some unfinished business and just another excuse to go back for another visit.